This is the second of regular newsletters from COMPASS, highlighting recent and forthcoming events and developments that are relevant to us, our partners and healthcare system stakeholders.
It has been an incredibly busy time since the start of 2018. We are excited by the progress we have made across various areas, all of which promise benefits and hope for patients and their families. We have advanced our plans and preparations for our clinical trial on Psilocybin Therapy for treatment-resistant depression (TRD); and completed pre-clinical studies, which have provided compelling evidence on the safety of Psilocybin Therapy in animals and in-vitro models.
In addition, we have manufactured two batches of psilocybin, the equivalent of more than 20,000 doses of 25mg, to cGMP (Current Good Manufacturing Practice) standards to support regulatory assessments and our late-stage clinical trials; we are launching a Psilocybin Therapy study for healthy volunteers; and we have expanded our team and our board of directors.
About 100 million people suffer with TRD, and do not respond to existing treatments. In addition to the distress and suffering caused for individuals and their families, depression presents a severe cost burden for healthcare systems. Over the next few months, we will begin our TRD clinical trial in Europe and North America.
We're building on the significant work that has already been done in this area, by gathering evidence in a larger population to see whether Psilocybin Therapy could provide a breakthrough to help patients suffering with TRD. If it does, we are committed to making sure as many patients as possible will benefit from the treatment.
In everything we do, we are guided by principles that put the patient first. They focus on delivering innovation and providing access to it, adhering to the highest standards of scientific rigour and integrity, and embracing openness and collaboration.
Our clinical trial on treatment-resistant depression
This trial will be a phase IIb dose-ranging study with 216 patients. The first patient will enter the trial in July or August in the UK. The trial will take place in 12 to 15 research sites across Europe and North America. If the trial is successful, it will be followed by phase III studies. Most likely these will compare the optimal dose to either placebo or standard of care.
Earlier this month, we held our first investigator and therapist training meeting at The Champalimaud Centre for the Unknown in Lisbon. This brought together more than 100 people from across Europe, who will be involved in managing the trial and working with patients. Over five days, the clinical teams reviewed the programme and protocol design, discussed recruitment and retention strategies, and received in-depth training to enable them to conduct the study to the highest levels of quality and consistency across research sites. Our clinical research partner, Worldwide Clinical Trials, was impressed by the unprecedented level of participation and commitment of the study teams. In his opening remarks, their president, Angelico Carta, described our partnership as "COMPASSion Worldwide". We are excited to be working with Worldwide to bring this vision to life for patients.
Healthy volunteers study at Institute of Psychiatry, Psychology and Neuroscience (IoPPN)
In July, we are launching a study of the "Effects of psilocybin on cognition and emotional processing" at the IoPPN, King's College London, in partnership with the University of Zurich, Switzerland and Cambridge Cognition. Ninety healthy volunteers will be randomised to receive placebo, 10mg or 25mg of psilocybin, administered simultaneously in up to six participants. The study will explore the effects of psilocybin on cognitive and emotional empathy, executive function, memory, attention and cognitive flexibility. In addition to scientific insights, it will provide a unique opportunity for therapists involved in psilocybin research to support psilocybin sessions alongside some of the most experienced researchers and clinicians from the US, UK and Switzerland. The study will run for 16 weeks from 23rd July.
Manufacture of cGMP psilocybin
Through a great collaboration with our manufacturing and formulation partners, we have manufactured two 250g batches of psilocybin, the equivalent of 20,000 doses of 25mg, to the highest regulatory standards (cGMP – Current Good Manufacturing Practice). A large portion of this material is being used for stability testing to meet regulatory requirements. The remainder is now encapsulated, packaged and ready to be shipped to our trial sites. This will support our late-stage clinical trials in Europe and North America as well as independent investigator-led trials at leading academic sites on both continents.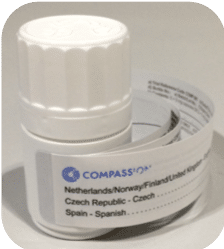 Supporting independent psilocybin research
We are passionate about increasing access to treatments and options for patients, and furthering research that will improve mental health outcomes. So in addition to using our psilocybin for our own clinical trials, we are also making it available, free of charge, to members of the European College of Neuropsychopharmacology (ECNP) through its Medicines Chest programme. We are looking at extending this approach to other eligible scientific associations and researchers with approved protocols.
Psychedelic research in the news
There has been a real surge of interest in the potential of psychoactive medicines in recent months.
Two of COMPASS's founders, George Goldsmith and Ekaterina Malievskaia, were guests on Rob Reid's After On podcast and talked about their backgrounds and motivations, and the forthcoming treatment-resistant depression clinical trial.
Significant coverage has also been generated by a new book by Michael Pollan: "How to change your mind – what the new science of psychedelics teaches us about consciousness, dying, addiction, depression and transcendence." COMPASS and our work is referenced in this book, as well as in an article Michael wrote for the New York Times Magazine in mid-May.
As a result, we are receiving numerous emails from patients and their families from all over the world. These messages inspire us to do all we can to develop and deliver accessible new treatment options for patients who are not helped by current medicines and therapies.
The importance of a sustainable business model
COMPASS is committed to accelerating patient access to evidence-based innovation in mental health. We want to develop and deliver medicines and therapies that can address significant unmet medical need (eg treatment-resistant depression) and then make sure they reach the patients who need them.
That is why we have decided to adopt a sustainable business model, in which we generate a reasonable profit to support and incentivise innovation. This strategy is already yielding important support for our research. For example, we have received our first R&D incentive payment from the UK government. As a private sector business, and based on our R&D investments, we will continue to receive these incentives which will enable us to fund more research. This virtuous cycle will encourage further private sector innovation in life sciences.
Drug development is a complex and costly process, particularly when it involves managing clinical trials and regulatory processes in multiple countries. We believe a balanced for-profit model, which aspires to deliver innovative therapies and enable patient access to them, is most likely to deliver the needed innovation on a long-term basis, which is critical to patients.
Our board of directors and scientific advisory board members
Our expanded board of directors has had its first meeting. Christian Angermayer, George Goldsmith and Ekaterina Malievskaia have been joined by three new independent directors. We welcome Annalisa Jenkins, who brings a tremendous amount of R&D expertise, having served as the Chief Medical Officer at Bristol Meyers Squibb and Head of R&D at Merck Serono; Thomas Lönngren who brings deep regulatory expertise, having led the European Medicines Agency for a decade; and David Norton who brings significant industry experience as former Company Group Chairman at Johnson & Johnson Pharmaceuticals and service on a number of boards.
We are also launching our scientific advisory board with leaders in neuroscience, psychiatry, regulatory science and health systems. They will be overseeing COMPASS's scientific research and clinical development programme to ensure we address the highest areas of unmet need with rigour and clinical equipoise. The members of the advisory board are:
Professor David Nutt MD PhD (Chairman)
Edmond J Safra Chair in Neuropsychopharmacology, Imperial College London
President, The European Brain Council
Former President of the European College of Neuropsychopharmacology
Professor Dr Elisabeth Binder
Director, Department of Translational Research of the Max Planck Institute of Psychiatry
Associate Professor in the Department of Psychiatry and Behavioral Sciences at Emory University School of Medicine
Member, Board of Directors of the European College of Neuropsychopharmacology
Professor Sir Alasdair Breckenridge CBE FRSE
Former Chairman, UK Medicines & Healthcare products Regulatory Agency
Chairman, Centre of Regulatory Excellence Advisory Board
Thomas Insel MD
President & Co-Founder, Mindstrong Health
Former Lead, Verily Mental Health team
Former Director, US National Institute of Mental Health
Professor Zach Mainen PhD
Director of Neuroscience Programme, Champalimaud Centre for the Unknown
Leader of Systems Neuroscience Lab and founding director of International Neuroscience Doctoral Programme
Professor Luca Pani MD
Executive Director of Global Medical Innovation, NeuroCog
Former Director General, Italian Medicines Agency (AIFA)
Professor Diego Pizzagalli PhD
Director, Center for Depression, Anxiety and Stress Research; McLean Imaging Center; Laboratory for Affective and Translational Neuroscience
Professor in Department of Psychiatry, Harvard Medical School
Professor John Rush MD
Professor Emeritus, University of Texas Southwestern MC & Duke-NUS Graduate Med School
Recipient of Thomson Reuters: World's Most Influential Scientific Minds (2014)
American Psychiatric Association: Award for Research in Psychiatry (2007)
Professor Paul Summergrad MD
Dr. Frances S Arkin Professor and Chairman of Psychiatry Department, Tufts University School of Medicine
Past President, American Psychiatric Association
Your feedback
If you'd like to know more about what we are doing or have comments about COMPASS Pathways News, please get in touch with us at info@compasspathways.com. If you'd like to subscribe to our mailing list, you can do here any time.