We are proud to be a Founding Supporter of the British Neuroscience Association's inaugural Scholars programme, which helps students from under-represented ethnic groups to thrive in neuroscience, and build a supportive community through networking opportunities, bursaries and mentorship.
We chatted to Rana Fetit, a neuroscientist and programme Scholar, about her journey from Egypt to Germany and now Scotland, where she's finishing her thesis for the Wellcome Trust Translational Neuroscience PhD programme and raising two children.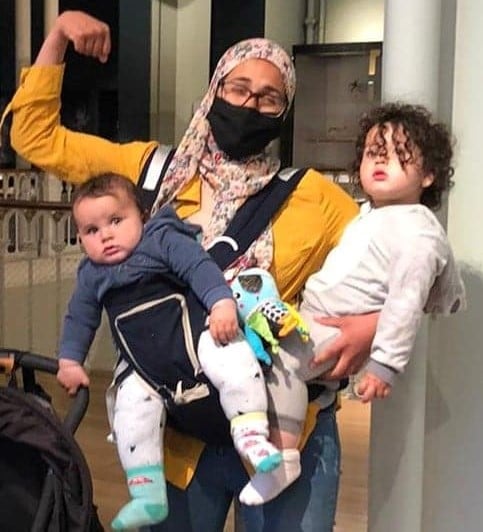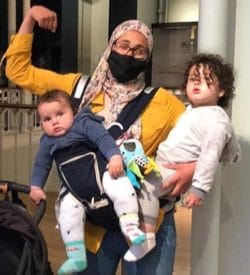 Rana with her children
What inspired you to become a scientist?
As a child, I was very curious. Often the people around me did not have the answers to my questions, so I had to go looking myself.
Tell us about your studies. Where has your career in science taken you?
I studied Pharmacy and Biotechnology at university in Cairo, Egypt, but I came to realise that pharmacy wasn't what I really wanted. Hoping to find something I enjoyed, I spent one summer working as an intern in a research lab in Ulm, Germany. It was a wonderful experience that I'm still grateful for today – I learnt a huge amount under the guidance of a great mentor.
After my undergraduate degree, I was offered a place on the Molecular Biosciences Master's degree in Heidelberg, Germany. I majored in Cancer Biology, a broad and intense programme covering a wide range of research topics. I enjoyed the diversity of lab projects and working as a part-time lab assistant, and I felt it broadened my horizons academically and socially.
Towards the end of my Master's degree, I moved to Edinburgh, Scotland to do a research internship at the Institute of Genetics and Molecular Medicine. My supervisor there suggested I apply for the Wellcome Trust Translational Neuroscience PhD programme. And here I am, just a couple of weeks away from handing in my thesis!
Between Egypt, Germany and Scotland, I have met friends, peers and mentors, who have shaped me into the young researcher I am today. Being a scientist is a mindset both inside and outside the lab. It is an outlook that quickly becomes a lifestyle.
What was it like becoming a mother while completing your PhD?
Towards the end of my second year, I found out I was pregnant with Laila, my first child. It was unplanned and overwhelming, but I was excited. Unfortunately, being an international student, I don't get maternity leave. I had to keep working until a few weeks before my due date and I resumed working from home when Laila was a month old. There was a lot of time spent typing with one hand while holding her with the other!
Three months later, I found out I was pregnant with Yousuf, my second child. The COVID-19 pandemic meant my husband and I having to raise two babies on our own. Our families live in Egypt, nurseries were closed, and we couldn't have friends over. It was hard.
Thankfully, everyone on my programme and in my lab was very supportive. My work hours were flexible but I still had to work weekends, go to the lab and run experiments at night, have Zoom meetings in the park, and sometimes even attend lab meetings with my children in tow … I had to get my work done and I had to make the time for it.
Nothing prepares you to become a mother until you are one. Being a mother of two, doing a PhD and surviving a pandemic was something I did not see coming! Looking back, I think the timing was perfect. Now that my children are older, I can focus on my future career options.
Congratulations on all that you've achieved. What would you say to women and girls who are interested in a career in science?
As a woman in science, you are constantly faced with challenges. Being good enough is not enough – you'll have to work twice as hard to be recognised. It is not easy, but you can have a family and a career in science. Know your priorities, set your goals, and leap after them. Embrace the challenges you stumble upon and the changes they bring along. Allow yourself to learn and grow. You can be a mother and a scientist, but most importantly, you need to be yourself.

You can be a mother and a scientist, but most importantly, you need to be yourself