We want to find better ways to support people suffering with mental health challenges, and we believe we're onto something important.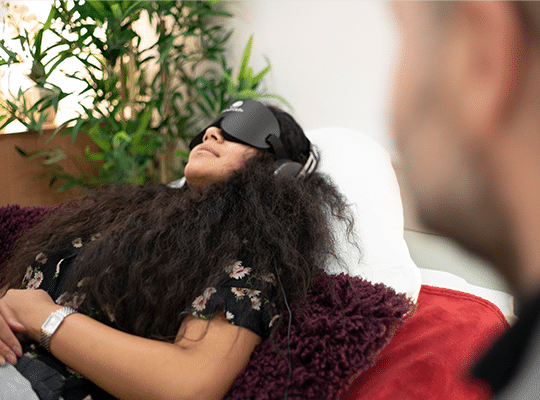 About psilocybin therapy
Psilocybin therapy is an approach being investigated for the treatment of mental health challenges. It combines the pharmacological effects of psilocybin, a psychoactive substance, with psychological support.
Psilocybin is an active ingredient in some species of mushrooms, often referred to as 'magic mushrooms'. We have developed a synthesised formulation of psilocybin, COMP360, and are investigating the effectiveness of psilocybin therapy, initially in treatment-resistant depression.
Early studies conducted in pioneering academic centres have shown signals that psilocybin could be a safe and effective medicine for patients with depression, anxiety, addiction and other mental illnesses, when administered with psychological support from specially-trained therapists.*
*Ross et al, 2016; Griffiths et al, 2016; Carhart-Harris et al, 2016
What happens during psilocybin therapy?
We are running a rigorous, large-scale clinical development programme of COMP360 psilocybin therapy for treatment-resistant depression across Europe and North America.
The psychological support element of the therapy is considered to be as important as the pharmacological effects of psilocybin. All therapists in our research studies are carefully trained through an FDA-approved programme. Learn more about our therapist training programme.
01 Preparation:
In these first preparation sessions, the therapist and patient get to know each other and form a trusting relationship, so the patient can feel supported and at ease during the psilocybin session.
---
02 The psilocybin session:
The patient lies down on a bed in a comfortable room, designed specifically for the session. They receive a dose of psilocybin in a capsule. During the experience, patients listen to a specially designed music playlist and wear an eye mask, to help them focus internally. The psilocybin experience typically lasts 6-8 hours. A therapist and an assisting therapist are present throughout the session.
---
03 Integration:
Patients are encouraged to discuss their experiences of the psilocybin session. The goal is for patients, with guidance from their therapist, to generate their own insights and ideas from the experience to change unhelpful emotional and behavioural patterns.
This timeline sets out the psilocybin research story over the past few decades.
Click on the icons below to see the related publications
Depression is the leading cause of disability and ill health worldwide. The World Health Organization estimates that it affects about 320 million people worldwide.
Treatment-resistant depression (TRD)