Dear friends,
The last few months and weeks have shocked the world. The COVID-19 pandemic and the growing economic, social and racial inequality manifesting in deaths and societal unrest, will have a lasting impact in all our communities. Mental health research is more important than ever, and I know that everyone involved will be working with a strong sense of purpose and determination. Here is an update of our work in 2020 so far, and what we are doing as a company to build a world of mental wellbeing for everyone.
Restarting our treatment-resistant depression (TRD) study
In March, we shared with you our decision to pause the recruitment of new participants into our ongoing clinical trial due to COVID-19. Since then, we have been helping participants already enrolled in our TRD study to complete the trial, using remote means where possible. We have also been planning how we restart our study as soon as it is right and safe to do so; study teams have been busy pre-screening, identifying patients who might be eligible. Eight sites (in the Czech Republic, Denmark, the Netherlands and the US) have now been approved to re-open, and we're hopeful that more will join them soon.
Securing funding for our research
Our mission to accelerate patient access to evidence-based innovation in mental health is urgent and our investors are critical in helping us to achieve it. At the end of April, we announced the successful completion of our Series B funding round. The $80m raised will help us to expand upon our programme in psilocybin therapy for TRD, support research into additional indications for psilocybin therapy, advance our preclinical pipeline, and develop digital technologies. We will also continue to pursue new academic partnerships.
Intellectual property helps enable sustainable funding so that we can conduct high quality clinical research in an effort to bring promising new therapies to patients who urgently need them. Following the issue of our first US patent in December 2019, our first German utility model was registered in March and our first UK patent was granted in May.
Supporting independent research
This month, we have confirmed an unrestricted educational grant to the Emory University/Grady Trauma Project in Atlanta, Georgia to explore the mental health care needs and attitudes towards psychedelic therapy in marginalized and underprivileged communities, with the goal of developing culturally-informed psilocybin therapy for depression and other mental conditions. Such communities have been disproportionally affected by limited access to mental health care, a crisis that is now further exacerbated by the pandemic restrictions and rising unemployment. Atlanta has one of the largest African-American urban populations in the US. The study will be led by Dr Jessica Maples-Keller, Assistant Professor, Department of Psychiatry and Behavioural Sciences, Emory University School of Medicine, and Dr Sierra Carter, Assistant Professor, Department of Psychology, Georgia State University. Jessica has a keen interest and expertise in trauma-based research and treatment interventions and is involved in both psilocybin and MDMA clinical research projects. Sierra's expertise is in racial health disparities and development of culturally-informed interventions in marginalized populations, with an emphasis on African American populations.
We are happy to see our former interns joining research teams at some of the world's leading academic institutions. This year Compass is supporting two young scientists. Drummond McCulloch has started his PhD journey at the University of Copenhagen at the lab of Dr Gitte Moos Knudsen, current president of the European College of Psychopharmacology. Drummond is working with Dr Patrick Fisher at Copenhagen University Hospital to look for long-term changes in resting state fMRI following high-dose psilocybin therapy sessions in healthy volunteers. Another former Compass intern and current Research Associate, Tobias Whelan, is starting his PhD at King's College London under the supervision of Prof Declan Murphy and Dr Grainne McAlonan, in collaboration with Prof Simon Baron-Cohen at the University of Cambridge. Tobias will be studying the neuroimaging markers and clinical effects of psilocybin therapy in patients with autism spectrum disorder. This study is just one part of the long-term collaboration between Compass and King's College London, working with Dr James Rucker and Prof Allan Young. We are very excited to support Drummond and Tobias and wish them success in their studies and beyond.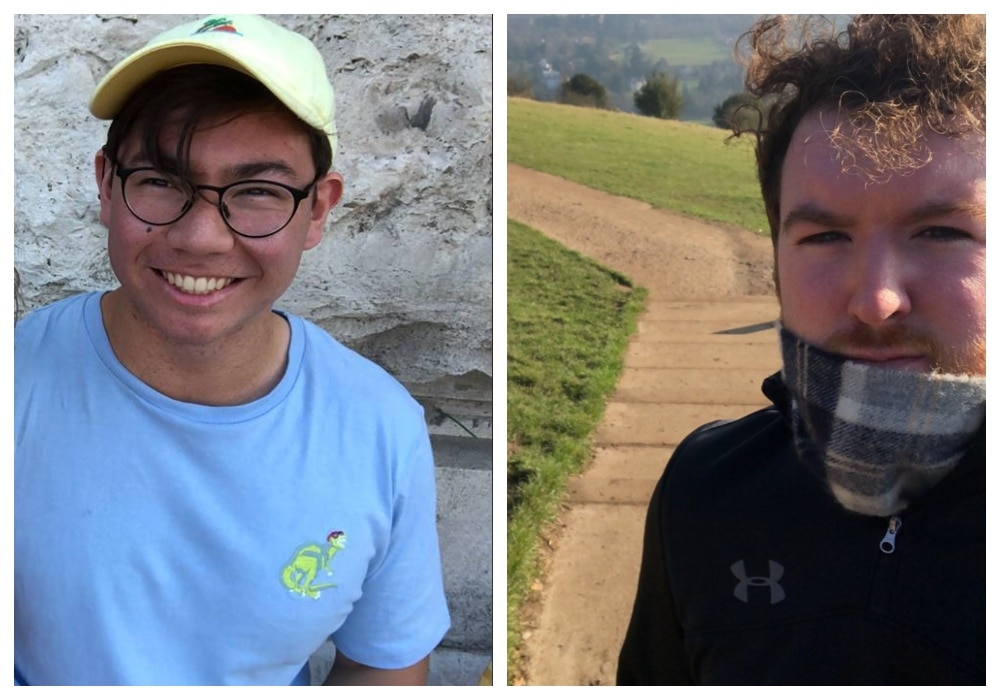 Former Compass interns, Drummond McCulloch (left) and Tobias Whelan (right), embarking on their PhDs

Expanding our team 
As our research grows, so does our team. Since January, we have welcomed 12 new team members, including Trevor Mill (our Chief Development Officer), Piers Morgan (our Chief Financial Officer) and Gary Gilmour (our Director of Preclinical Research). Trevor joins us with extensive international experience in drug development, most recently from Biogen where he led Global Safety and Regulatory Sciences. Piers has worked at some of the world's leading financial organisations and has held CFO and CEO roles at several biotech companies across Europe, including Verona Pharma plc, C4X Discovery Ltd, uniQure NV, BioAlliance Pharma and Arrow Therapeutics. Gary built his career in the pharmaceutical industry, most recently working for Eli Lilly as a Research Advisor in the Pain Discovery Group and has led discovery and novel target projects across a broad range of neuroscience indications.
We are honoured to welcome a new member to our Scientific Advisory Board: Gül Dolen, Assistant Professor at The Johns Hopkins University School of Medicine. We have also been delighted to welcome two new members to our Board of Directors: Robert McQuade, President of the McQuade Center for Strategic Research and Development LLC (a member of the global Otsuka family of pharmaceutical companies), and Jason Camm, Managing Director and Chief Medical Officer at Thiel Capital LLC.
Staying connected – as a team and with our local communities
As a team we are finding new ways to stay connected. Our latest social initiative is a highly competitive month-long "Compass 2020 Games", with teams of colleagues participating remotely in physical and creative tasks. We've also been raising funds through our social activities to help organisations close to our heart, including Barnardo's and the North Paddington Food Bank.

Highlights from our Compass Games: TikTok videos, cake baking, egg box creation, and best dressed competitions – we will donate to a charity chosen by the winning team
There will be challenging times ahead; we are working harder than ever and remain committed to bringing evidence-based innovative therapies to the people who need them the most.
Thank you for your continued support and interest in our journey. As always, please do get in touch if you have any questions or would like to know more.
Warm regards,
Ekaterina